Total Management and Training began using aXcelerate's student management system to efficiently track their growing student enrolments and to integrate with and 'talk' to their other external systems including the online learning platform Moodle and the accounting platform Xero.
Background
Total Management and Training was the brainchild of Total Safety Services, which was started by the O'Donoghue family in Far North Queensland in 2002. Total Safety Services were responsible for assisting their clients with the compliance aspect of safety services such as risk audits, site and system audits and process development and management. However, they discovered there was also a great need amongst their clientele for a range of training options which focused on developing the skills surrounding health and safety. Total Safety Services went to work to fill this market void and the result – Queensland Training Services – was launched in 2005.
In 2016, Total Safety Services and Queensland Training Services merged and came under the one banner of Total Management and Training in order to focus on providing nationally recognised training in health, safety and high risk skills.  The organisation's product offering has expanded over the years to include courses in allied health, business qualifications, corporate professional development and Microsoft applications and these training options needed to be reflected in the organisation's brand and identity.
Total Management and Training's core business remains focused on health and safety. Courses including the Construction Industry White Card, Risk Management, WHS for Managers and Supervisors and the Certificate IV in Work Health and Safety have been very popular for students, especially within the construction, mining, manufacturing and agriculture sectors; as these industries often deal with high-risk workplace situations. Consequently, these students and organisations are looking to gain WHS and high-risk work licenses and competencies to meet their compliance requirements under legislation.
Total Management and Training has had over 15 years' experience in high-level training and consulting and enjoy a reputation as being an 'expert' in the health and safety sector. A reputation that differentiates them from many of their competitors. Total Management and Training has strived to produce a consistent product over the years and have employed trainers who have extensive knowledge in their respective fields and are often senior WHS and business consultants as well as trainers. This ensures they possess the necessary knowledge to guide students and ensure they can achieve their professional goals.
This strong dedication to high-quality training has attracted many third party organisations and Total Management and Training has now acquired a number of other quality providers across Brisbane, Townsville, Mackay and Papua New Guinea. These third party providers have made Total Management and Training's courses more accessible for clients, especially those outside the Far North Queensland region.
Due to Total Management and Training's decision to expand and diversify their product offering, they were suddenly faced with a significantly larger amount of data they needed to track, report on and monitor. Efficient data management became even more imperative with the changing Vocational Education environment, particularly the introduction of the Unique Student Identifier (USI). This, paired with Total Management and Training's desire to integrate this data with their other platforms and to take online enrolments, drove the organisation to look for a more sophisticated student management system which would help to facilitate the delivery of their high-quality courses. This search led Total Management and Training to aXcelerate.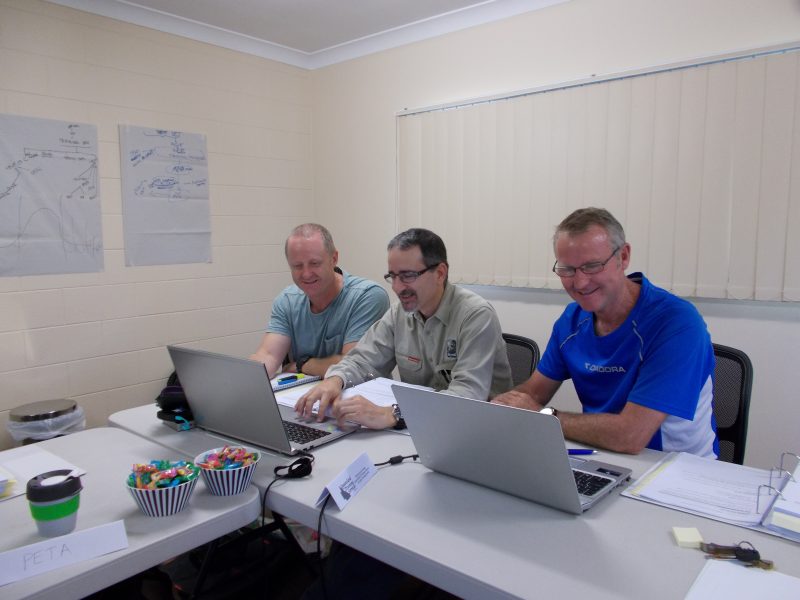 Solutions
Like with any significant change, the prospect of moving to a new student management system was initially daunting for the Total Management and Training team. Consequently, they dedicated a significant amount of their own time and resources into the implementation process and received comprehensive training in the aXcelerate software, when first coming on board.
Since implementing aXcelerate, one of the first things Total Management and Training noticed was the increased efficiency within their enrolment processes. Due to aXcelerate's CRM functionality and its ability to link contacts to a workshop or course, enrolling and tracking a particular student or class only involves a few clicks.
This has also saved the organisation considerable time when reporting as it is much easier to find and report on any student within the organisation's various locations, all from the one database.
When reporting, Total Management and Training has also been able to utilise aXcelerate's USI verification process and the report building feature. Both provide automated guidance when errors relating to the USI or AVETMISS reporting have been made. Because all of this information is stored within the one system, Total Management and Training can easily gather and download these reports to be sent on to ASQA and the organisation's funding bodies.
aXcelerate also has the ability to integrate and 'talk' to many of Total Management and Training's other external systems, including the e-learning platform Moodle and the accounting software Xero. Total Management and Training have worked very closely with aXcelerate to ensure their eLearning content can be transferred between the two systems. This allows the trainers to use Moodle to upload and mark assessments and provide feedback; all of which then gets transferred into Total Management and Training's aXcelerate system. This process eradicates the risk of information duplication and saves both administrators and trainers time when marking/reporting on assessments.
Finally, having a student management system which is cloud-based is a huge benefit to a company like Total Management and Training who has multiple third party providers and trainers who are often in rural locations. Using aXcelerate allows their staff members to easily access and track student data at any time, from anywhere. This has greatly assisted Total Management and Training in maintaining a constant connection with their current and prospective students.
Looking towards the future
As Total Management and Training continue to grow their business, they wish to enhance and develop their integrations between aXcelerate and their other software packages including Xero and Moodle. Incorporating more automated processes to help streamline the transfer of information between systems will be invaluable to Total Management and Training as they continue to grow and enter more and more data into their various platforms. Total Management and Training will also be working closely with aXcelerate to fine-tune how information from their online enrolments is reflected in their aXcelerate database to fully automate this process.
Total Management and Training are also aware that aXcelerate's research and development area is well resourced and the student management system is constantly producing new features and listening to client's suggestions. aXcelerate looks forward to continuing to develop the tools Total Management and Training utilise so the organisation can continue to uphold its reputation as a quality training provider.
If you would like to find out more about aXcelerate's Moodle integration or any of the other features we offer, click here.
If you would like to find out more about Total Management and Training and the courses they offer, visit their website.